Hello everybody!
Today we would like to present you the application "Karotz Controller" for smartphones and pads. This is a beta version, so please don't be too severe! And as always the video is in French.
With this application you can change the colour of the LED, move the ears, send text messages, listen to the radio or to your music files, and take photos from what Karotz can see.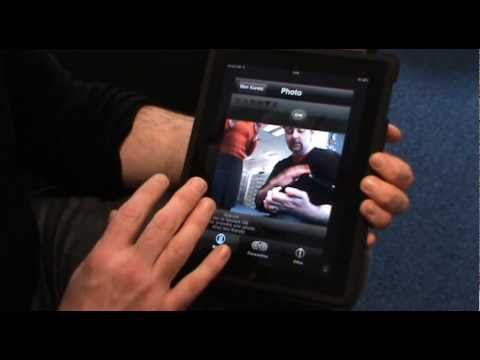 0'' – 0'30 Arnaud says hello to everybody, and present the topic of this video: It is about the Karotz Controller. The Karotz Controller is a small program, that you can install on your iPads or Android phones. Later it will also be available for Symbian and Windows 7. With this program you can control the functions of Karotz, for example photo editing, music or TTS (Text-to-Speech).
0'31 – 1'19 Arnaud makes a demonstration of the topic Photo Editing: He opens the application on his iPad and controls, if he is connected with the rabbit. The LED is white, which means that the connection is already established. Then he starts the application. Now Karotz takes a photo every second, until the process is stopped by the user. So you can see, what happens at your home. In this version 1.0 of the Karotz Controller the photos cannot yet be saved, but this should be possible in the next version.
1'20 – 2'04 The second demonstration in about the topic Multimedia. Before you could read media from an USB stick using the MPD (Music Player Daemon). From now on this program is directly integrated into the Karotz Controller. Now you can launch a song, go from one song to another, or choose the random mode.
2'05 – 2'34 You can also listen to radio stations. In this example Arnaud is listening to radio France Inter. The Karotz Controller includes about 20 radio stations, and this list will be enriched. The Karotz Controller will also be able to integrate web radios, that you set up for Karotz.
2'35 – 3'04 For all those, who do not want to leave their iPad running, we also have a solution: When the iPad is in stand-by modus, there are still about 20 minutes available, so that you can continue listening to songs or to radios.
3'05 – 3'44 The third functionality is the TTS. Arnaud is writing a short text message on his iPad, and Karotz transforms his message into a artificial voice. So you can send messages to your friends, with your iPad or your smartphone.
3'45 – 4'09 You also can telecommand the ears or change the colour of the LED.
4'10 – 4'14 And finally Arnaud invites you to ask all your questions to this video on the blog.